While some cricket fans have called Australia's dominance as boring, especially after winning their sixth Women's T20 World Cup title in Newlands on Sunday, head coach Shelley Nitschke acknowledged that as teams try to bridge the gap, the team has to keep moving and evolving.
Shelley Nitschke
"The fact is that we are getting pushed. We were playing South Africa here in their first T20 World Cup final. The game just continues to grow and our challenge is to evolve with it."
"I think it's great that we keep winning and I hope we do keep winning, but we certainly know that as the game grows, we need to keep moving with it. I think that's the challenge for every team," Shelley Nitschke was quoted as saying by cricket.com.au.
Shelley Nitschke, the former Australia cricketer, had been a member of Australia's 2018, 2020 and 2022 triumphs in Women's T20 World Cup as an assistant coach. The 2023 title is her first as a head coach after taking over from Matthew Mott last year.
Co-incidentally, she had won her first World Cup with Australia as a player 18 years ago. "It's an amazing feeling. The first one I won as a player was the first one I've been involved in as a coach, so I guess it's gone full circle," she added.
Shelley Nitschke was also in praise of left-handed opener Beth Mooney, who took player of the match award for her 74 not out in the final against South Africa. In the 2020 Women's T20 World Cup, Beth had slammed 78 not out off 54 balls as Australia defeated India in front of 86,174 fans at the MCG.
She would go on to notch up 61 in the Commonwealth Games gold-medal match against India, after hitting 62 in the final of the ODI World Cup against England in New Zealand last year.
"There is just this steely determination. She's obviously highly skilled but there's just this real determination and an ability to read the game and today she, by her own admission, probably struggled a little bit early."
"But it was really important for us in the context of the game that she stayed there and went on to make a big score and she was striking really well at the end. I'm not sure if you can teach that but it's an amazing ability that she's got to be able to just hang in when the going is tough in tough conditions, and make it up and make winning contributions."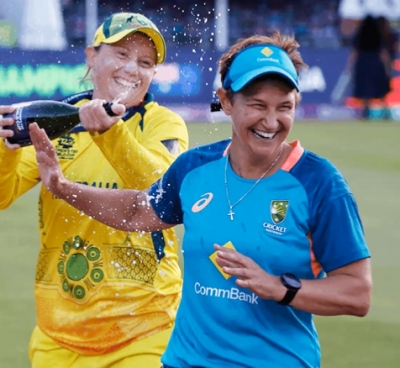 Shelley Nitschke signed off by praising wicketkeeper-batter Alyssa Healy for doing the captaincy job well when regular skipper Meg Lanning was on her five-month break from the game after winning gold medal in Commonwealth Games.
"Alyssa has done a fantastic job in her absence. But I think Meg coming back had the team really lift, she's such a strong leader. I think the difference with her is now she's just back and she's just enjoying herself. She's enjoying her cricket. She's laughing out there, which is pleasing for everyone and we're just happy to see that."
Also Read: Women's T20 World Cup: It's a pretty special effort from the group, says Meg Lanning