Virat Kohli tried to pacify Gautam Gambhir when the two got in each other's faces but the chat soon turned hostile and other players had to step in.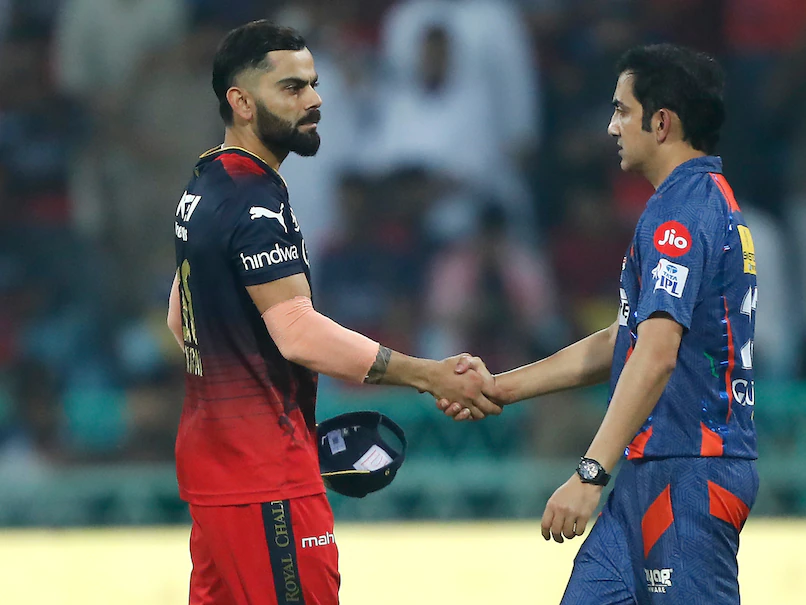 Even though they are no longer the IPL's captains, Virat Kohli and Gautam Gambhir got into a heated argument following Royal Challengers Bangalore's 18-run victory over the Lucknow Super Giants. They had fought in the IPL during RCB's match versus the Kolkata Knight Riders in Bengaluru more than ten years prior. While Gambhir is retired and serves as the global mentor at LSG, Kohli currently plays as a specialist batter for RCB.
After the game, Naveen-ul-Haq, an LSG bowler, and Kohli appeared to argue while the players were shaking hands. Gambhir then separated Kyle Mayers, his team's first batsman, from a conversation with Kohli.
A few seconds later, Gautam Gambhir was seen advancing on Kohli with aggression while being restrained by his teammates, including the injured skipper KL Rahul. When the two got in each other's faces, Virat Kohli appeared to be attempting to calm Gambhir by placing his hand on his shoulder. However, the conversation quickly turned tense, and veteran spinner Amit Mishra intervened to keep the two apart.
Also Read: https://thekheltimes.com/chris-jordan-joins-mumbai-indians-for-remainder-of-ipl-2023/
In an away game where RCB successfully defended 126, Kohli displayed more energy throughout the fielding innings. The crowd was more in favour of the visitors than the hosts. He hushed the audience after taking a catch to dismiss Krunal Pandya, probably in retaliation to Gambhir's quiet Bengaluru supporters following Bengaluru's last-ball victory in the first match between the two teams. When the game was all but over in the 17th over of the chase, he and Naveen even got into a heated argument. Then, Mishra and an umpire had to step in.
The game undoubtedly had the vibe of a grudge match, which spread to both sides' social media accounts. Ladies and gentlemen, this is how you do it. LSG tweeted after the most recent game, and it was instantly reposted by an insider of the RCB club. PLAY BRAVELY. It appeared to be a parody of RCB's slogan. Following this victory, Kohli's image of him calming the crowd was tweeted by RCB's official account with the following caption: "What goes around comes around."
Rahul, who had previously suffered a serious hip flexor injury, was observed having a lengthy conversation with Kohli after this altercation. Along with Marcus Stoinis of the LSG, he had cordial conversations with him.