Hardik Pandya calls Suryakumar Yadav "one of the best batters in T20 cricket".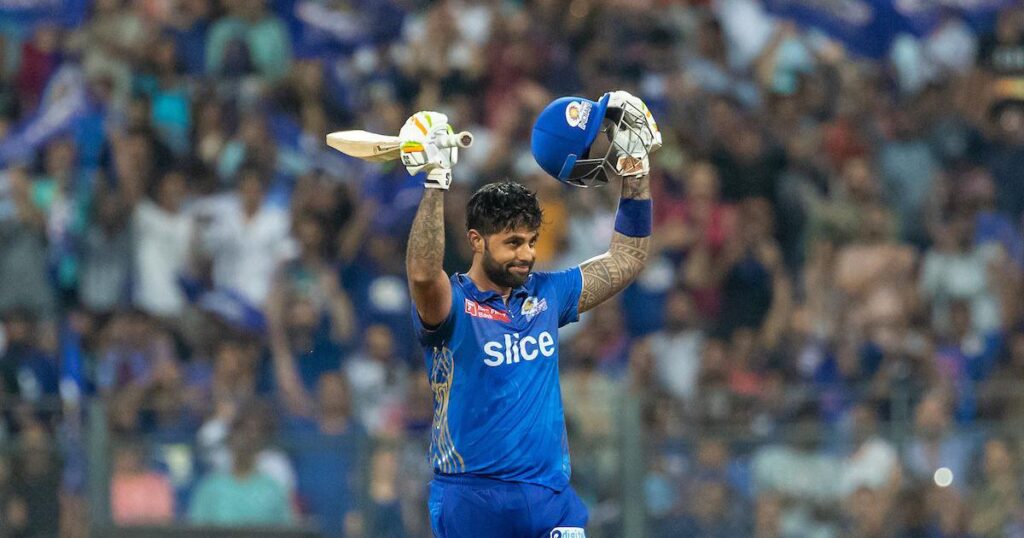 It was undoubtedly his most amazing shot on his way to his first IPL hundred, which he scored against Gujarat Titans on Friday. Suryakumar Yadav, on the other hand, said it was easy because he had "lots and lots of practise" before the game. Suryakumar Yadav stepped out to the leg side to Mohammed Shami's full delivery on the stumps in the 19th over of the first innings and used his strong wrists to slash the ball over short third for a six.
"There was a lot of dew on the ground, it was there from the seventh-eighth over, and I knew what my shots were on the ground," Suryakumar Yadav said following the Mumbai Indians' 27-run victory. "I knew one side of the barrier was 75-80 metres long. So I was expecting to knock two shots in that over, one over third man and one over square leg. I wasn't planning on hitting straight. I'd played that shot before, and I just backed myself up and was pleased with how it went over third man.
"I practise a lot before the game, both what I practise and how I practise." That is the most crucial point. I am pretty straightforward when I enter the game and just go out and express myself. That's all there is to it."
Also Read: https://thekheltimes.com/grant-bradburn-confirmed-as-pakistan-mens-head-coach-for-next-two-years/
Suryakumar Yadav, who batted at No. 3 after Mumbai was requested to bat first at the Wankhede Stadium, smashed an unbeaten 103 off 49 balls to help the hosts reach 218 for 5 – their eighth 200-plus total this season. After taking 32 balls to reach his first fifty, he required only 17 balls to reach his second fifty. With a six over backward square leg off the penultimate ball of the inning, he reached the milestone. Suryakumar Yadav compared this knock to his three T20I hundreds, saying, "it was one of his best."
"Can say that [this was one of my best T20 knocks]," Suryakumar added. "Whenever I score, I believe the team will win, and most importantly, we batted first today." We talked in the afternoon about keeping the same speed while you're chasing 200-220, and we'll keep it going until the last over. "I'm very pleased with how things turned out."
Mumbai captain Rohit Sharma lavished accolades on Suryakumar after witnessing him develop into a T20 prodigy from close quarters.
"He has a lot of confidence," Rohit remarked. "We were debating whether to keep the right-left combination at the start of the tournament, but Surya came in and said no, he wanted to go in." That's the kind of confidence he has; it doesn't matter if a legspinner, offspinner, or left-arm spinner is bowling; he simply wants to go in. That demonstrates how much confidence he has gained in the previous year and a half of playing for us as well as India. He's done exceptionally well. That's the confidence he exudes, and it rubs off on others who bat alongside him in the middle.
"There will be no turning back for him." The wonderful thing about him is that he wants to start fresh in every game and does not look back at the previous game – which is always a good thing for a cricketer to think like that – what has happened in the past and the sort of run he had in the past. Sometimes you can look back and feel proud of yourself, but that is not the case with him."
Hardik Pandya, Titans captain, admitted that it is difficult to set fields for a "tremendous player" like Suryakumar Yadav, who previously played with Mumbai in the IPL.
"People have spoken enough about him," Hardik stated. "He is one of the best T20 batters in the world." When he gets going, it's difficult for him to establish a pitch as a captain and as a bowler. You must carry out your ideas and outperform him. Otherwise, you've seen what might happen if you don't follow through on your goals or if you freeze in a stressful circumstance. He kept putting pressure on our bowlers and eventually beat them."