"Matheesha Pathirana will serve for a very long time for Sri Lankan Cricket, but we'll have to keep an eye on how much he bowls" says MS Dhoni.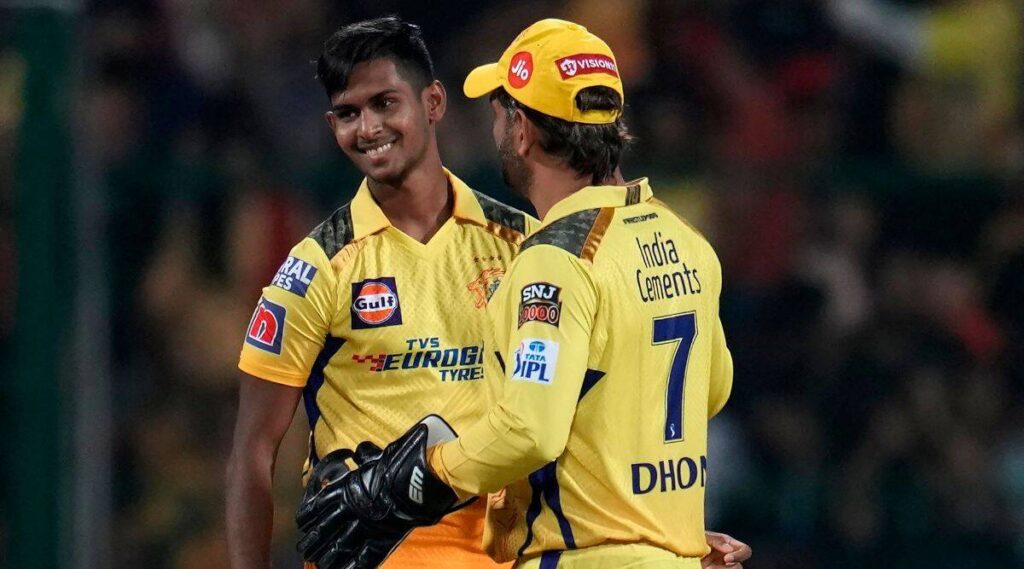 According to MS Dhoni, Matheesha Pathirana "shouldn't even get close" to red-ball cricket while playing for the Chennai Super Kings in the IPL in 2023.
Matheesha Pathirana, a modern-day Lasith Malinga, has established himself as one of Dhoni's IPL aces. On Saturday at Chepauk, he defeated the Mumbai Indians by taking three wickets for only 15 runs while delivering all of his overs in the second half of the innings.
At the post-game presentation, Dhoni remarked, "I personally think Matheesha Pathirana is not someone who should play a lot of red-ball cricket," in what seemed to be a plea to the Sri Lankan cricket establishment. "In my opinion, Matheesha Pathirana shouldn't even approach it. He ought to play as little as possible, even in the 50-over version of white-ball cricket. Given that he is not a player who will significantly alter, [he should] compete in the major ICC tournaments. You can always employ him at important moments because he will always do this [have an impact in short spurts].
However, Matheesha Pathirana will be a huge asset for Sri Lanka if he is healthy and available for all ICC competitions. Not to mention that he's a really young boy. When he arrived the first time [in 2022], he was a little bit more muscular than before, so he has gained strength. I believe he will serve Sri Lankan cricket for a very long time, but we'll need to monitor how much he bowls.
Also Read: https://thekheltimes.com/johnson-charles-joins-kolkata-knight-riders-as-litton-das-replacement/
Despite not selling at the IPL 2022 auction, Matheesha Pathirana was signed by CSK when Adam Milne was diagnosed with a hamstring ailment.
He participated in two games for CSK in the previous campaign, taking two wickets. The fact that he has only bowled four of his season's 27.2 overs until the 12th makes the ten wickets he has taken this time around—all at the death—with an economy rate of 7.60 in seven games even more impressive.
"Batsmen find it difficult to pick people who don't have very clean [conventional] action; in a format like this, where you have to go after the bowler, it makes it slightly difficult," remarked Dhoni. "That is just on the action part; we are not discussing the pace at which he bowls, his variations, or his consistency. Everything about him is unique. What's crucial is to pay attention to how much cricket he plays.
Dhoni wanted to bat but was 'outnumbered'
It was only the second 3.30pm game played at the venue, but it was CSK's third victory in five games there this season. Dhoni admitted he wasn't sure about his choice to field at the toss because rain was expected in the evening, but he followed the consensus of the CSK think tank.
"Honestly, I had some reservations. I wanted to hit first, that's all. However, the think tank as a whole stated that rain was possible. "I performed a quick calculation. I said the game will begin at 3:30. If you are batting first after winning the toss, the game should end in no more than one and a half to two hours. The most of the game would be finished by the time it started to rain. Since I was slightly outnumbered, I suggested that we follow the majority's lead.
"We get down and discuss [any] confusion if there is any. It doesn't matter who said what. We try to decide what is best for the team overall, and you follow the majority. The fact that the pitch has always been excellent to start batting on made it a little perplexing since I thought it would slow down. I therefore strongly believed that even if it rains, much of the game will already be finished and it won't immediately affect the game.
At order to finish the league stage, CSK still has two home games left (against Kolkata Knight Riders and Delhi Capitals) and one away game at Delhi.