The fast-bowling all-rounder and captain of Australia, Rhys McKenna, had speared one full and outside off in their T20 World Cup match. Shorna Akter stepped forward, raised her arms, and casually flicked the ball over deep midwicket for six.
A few balls later, she deflected a full one to the fine leg ropes with her pads, and Bangladesh had just defeated Australia in an incredible upset to begin their Under-19 Women's T20 World Cup campaign.
A Perfectly Prepared Bangladeshi Side for T20 World Cup
This is dissimilar to many previous Bangladeshi women's sides. Under the direction of head coach Dipu Roy Chowdhury, the players' preparation for this tournament focused on power-hitting and all-around contribution. That's only half of it, though.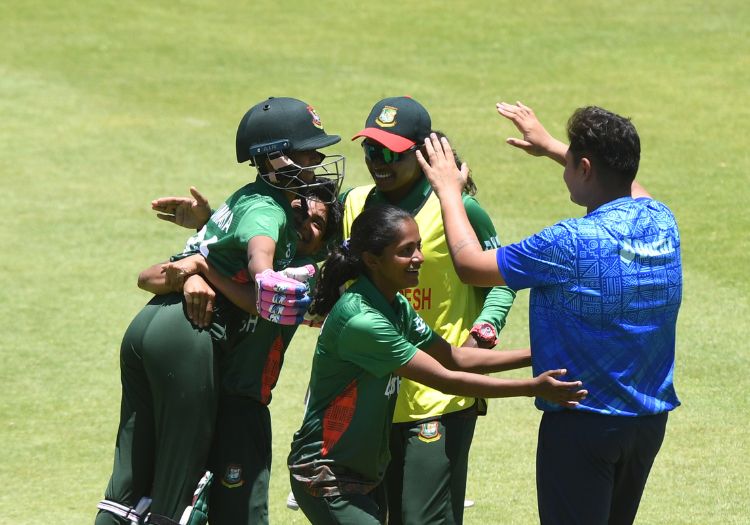 Additionally, they are choosing their squads so that 60% of them will still be able to compete in the following World Cup. In order to create a women's cricket system with a steady flow of talent and experience, they are striving to do it in this way.
Afia Prottasha Becomes Star Performer
Afia Prottasha, Dilara Akter, Shorna Akter, and Disha Biswas are a few examples of the multifaceted stroke makers they have previously discovered in this way.
It was enjoyable to witness Prottasha at the top of the list in especially. What does it matter that five of the Australians, including McKenna, have played in premier leagues like the Women's Big Bash League?
In order to get off the mark, Prottasha cleared her front leg and threw McKenna over the long-on barrier. Then, for a one-bounce four, she chipped Milly Illingworth, whose bowling style is eerily similar to that of former Australia men's fast bowler Shaun Tait.
Prottasha set Bangladesh on course for their 131-run chase with her 22-ball 24, which included two fours and two sixes, the second coming off legspinner Amy Smith.
Assisted by the Bangladesh Cricket Board, the Under-19 team painstakingly prepared for this T20 World Cup. As a result of their regular practice games against the Under-15, Under-16, Under-17, and Under-18 lads, they weren't particularly intimidated by Australia's power during the actual game.