Pakistan's cricket skipper, Babar Azam, found himself in an unexpected encounter with officers from the Excise department on Friday, May 19. The officers suspected Babar of violating traffic rules, leading to an inquiry that caught the attention of cricket enthusiasts and fans alike. This incident, though unrelated to his prowess on the cricket field, created quite a stir.
According to reliable sources at Cricket Pakistan, the Excise officers noticed an anomaly with the numbers displayed on Babar's vehicle's license plate. The numbers appeared unusually small and failed to comply with the standard size regulations set by the government. Acting promptly, the officers approached Babar and requested him to replace the non-compliant number plate with one that adheres to the prescribed guidelines.
Babar Azam: Stopped for Traffic Violation
In addition to addressing the license plate issue, the officers took the opportunity to verify Babar Azam documentation, including his vehicle's registration, taxes, and other relevant paperwork. Once the examination concluded, the officers, seemingly enthused by the unexpected encounter with the renowned cricketer, seized the moment to capture selfies with Babar Azam. These images quickly gained traction on various social media platforms, becoming viral sensations.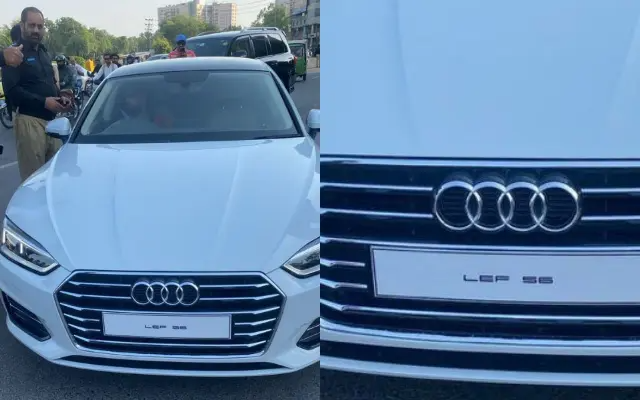 Despite this incident, Babar Azam remains a key figure in the cricketing world. After a brief hiatus during the Afghanistan tour, he made a triumphant return to the squad. Under his capable leadership, the Pakistani team, often referred to as the "Men in Green," emerged victorious in the ODI series, securing a 4-1 victory. Babar's own performance was commendable, with a tally of 276 runs across five matches, positioning him as the fourth-leading run-scorer of the series.
Also Read: Oval conditions in WTC Final 2023: How Conditions Impact the WTC Final
While Babar Azam stellar contributions and opener Fakhar Zaman's sensational performance, scoring two centuries and accumulating 363 runs, have undoubtedly boosted Pakistan's confidence ahead of the upcoming ODI World Cup, concerns loom regarding the team's middle-order. Mohammed Rizwan's performances appeared average, while Agha Salman's limited experience raises doubts about his suitability for the role. Consequently, addressing and strengthening the middle-order becomes a vital area of improvement for the team in preparation for the global tournament.
On the bowling front, Shaheen Shah Afridi and Haris Rauf emerged as the stars of the Pakistan team once again. Shaheen's recent development as a batsman adds value to his overall contribution to the team. His prowess with the ball also solidifies his position as one of the best in white-ball cricket. However, the spinners need to elevate their game, particularly considering the tournament's Indian conditions. Currently, Pakistan lacks quality spinners who can make a significant impact. With ample time remaining until the marquee tournament, Pakistan has an opportunity to discover and nurture a hidden gem to fulfill this crucial role.
---